Get Good Value for Your Gold Nuggets
Gold Buyers Melbourne is the highest paying gold buyer for NUGGETS , give us a try and you will find out for yourself, We have state of the art testing equipment, and we can also do melting on site if you require. Please do your homework before you sell your nuggets. We make the process to sell gold in Melbourne very easy and convenient.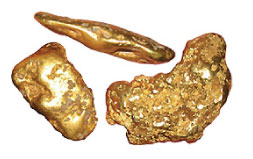 Gold is produced in great quantities through two processes – mining and by minting. Minting is the process of melting gold, and molding them into gold bars that are then traded as commodities. Because of the resource-extensive nature of gold mining, minting existing gold is the preferred method for producing investment-grade gold.
There are many sources of gold that can be minted into investment-grade gold. People, for instance, sell their scrap gold to operators. Scrap gold can mean unwanted gold items like gold watches, jewelleries made of gold, dental gold that people no longer want to use, and gold nuggets. The last one, the gold nugget, is mainly produced by prospecting – the act of inspecting the area around a former gold mine for bits and pieces of gold. This can be a recreational hobby, but it is a fact, of course, that people can earn money from this hobby by selling gold nuggets.
When you sell gold nuggets, you are paid as according to the weight of the nugget that you bring in to the buyer. That is why it is imperative when selling gold nuggets that you are able to ascertain that the purchaser uses an accurate weight scale to assess the value of your specimen gold. This makes sure that you are paid the amount that is exactly what your gold is worth!
In most cases, the operators of the area that a prospector finds his nuggets buy the specimens on the spot. Of course, as a prospector, you have the option to find somewhere else that you can sell your gold nuggets to. Because of the rising preference amongst investors for commodities like gold, there is a good market that you can explore to find that gold buyer that you could get a substantial pay out for your nuggets, like Gold Buyers Melbourne.