Sell Diamonds
Quote on the spot
Highest prices paid
Cash paid on the spot
No appointments required
Secure and private city office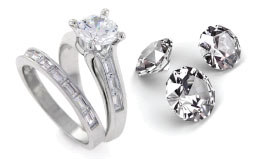 Selling your Diamonds to us is very easy,we have a full time gemologist at our secure and private Melbourne office which will assess your diamond(s) and give you a quote on the spot.
Why use our convenient service:
You no longer need to go to a Pawn Shop and be embarrassed.
You no longer need to use trading post where you are not sure of strangers coming to your house.
You no longer need to rely on EBay and waste time on unsold items and listing fees.
Let us solve those problems for you and make the process of selling your diamonds easy, fast and reliable.
If you are looking for a diamond buyer in Melbourne where you can sell your diamonds for cash, you have found it! We are here to pay you the most we can for your diamonds, making the experience of selling your diamond(s) easy and convenient.
Tips:
Bring any existing valuations.
Bring any existing diamond certificates.
There's a saying that diamonds last forever. And for people who have diamond earrings, diamond bracelets, and diamond rings, they will always treasure these beautiful diamond jewellery pieces. However, there may come a time when circumstances warrant an immediate need for cash. For those who have beautiful estate jewellery items, they can sell their unwanted diamond pendants, broken diamond earrings, old engagement rings or even old and chipped diamond stones for cash.
You don't have to worry where to sell your dull and outdated diamonds. Gold Buyers Melbourne will buy your diamonds in whatever condition, whether chipped, old, dull or outdated. Your diamond may be set in gold, silver, platinum or palladium. Gold Buyers Melbourne will buy them. Gold Buyers Melbourne will also buy loose diamond stones in all shapes and sizes.
Why choose Gold Buyers Melbourne
Its store is located at a convenient place. at the heart of Melbourne CBD. We also offer Free City Parking.
The store has a full-time gemologist. This person will assess your diamond jewellery pieces. You will receive a quote for your diamond items on the spot.
Its office is secure and private. Prying eyes won't be able to see the items you are selling
Appointments are not necessary. You just go to its office and have your beautiful jewellery pieces checked.
You will receive cash, not cheques. No hassle on your part, just easy and convenient place to sell diamonds!
Tips to get a high valuation
It is always good to bring the existing valuation papers related to your diamond jewellery items and other precious gemstones. Do not forget to bring your existing diamond certificates. You should know that small differences in the grading of your diamonds can make a big difference in the amount you will receive in selling your diamonds.