Sell Gold Chains
Selling your unwanted gold chain(s) is a way to cash in on the current high price of gold. At Gold Buyer Melbourne our simple philosophy is, if you don't use your jewellery you may as well make money from it and cash in while the price of gold is high. Sell gold in Melbourne on an easy and secure way.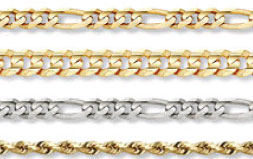 We have a helpful team of Certified Valuers, qualified gemmologists and trained jewellers that will take care of all the gold testing and will explain interesting facts about gold and jewellery while its getting tested.
We accept any gold Jewellery, being a gold refinery we make use of almost anything that has gold or silver. We purchase the gold items from you then at the refinery we separate all the metals and impurities. The pure gold then gets turned in to Gold Bullion or Gold granules and it gets used again to manufacture more Gold jewellery.
Selling your Gold = Recycling, every time a gold jewellery item is sold to us, less gold needs to be mined out of the earth, minimising the damage to the soil and ecosystems. In other words, You are helping the environment.
Sell Gold Bangles
Sell any type of gold and silver
Sell gold straight to the refinery
Help the environment by selling your gold
Certified NCJV Jewellery Valuer on site
Qualified Gemmologist on site
We buy diamonds